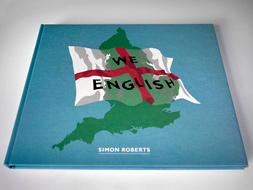 We English by Simon Roberts with an essay by Stephen Daniels © Chris Boot Ltd 2009
Retail price: £40 / $60
ISBN: 978-1-905712-14-4
Binding: Hardback
Extent: 112 pages
Trim size: 14.1x11.4" / 360x290 mm
Photographs: 56 Color Plates
Signed copies available from The Photographers Gallery and Chris Boot.

Purchase from Amazon.co.uk, Amazon.com or Photo-eye Booklist.
Special Edition Boxset
Limited edition of 100 copies (+ 10 APs)
This special edition includes a book, a 11x14" C-type print and a copy of a local newspaper collected on Simon's journey around England, all housed in an silver/grey embossed clothbound slipcase. Also included is a Certificate of Authenticity.
Each book and print is editioned, signed and dated.
The print is titled 'Bolton Abbey, Skipton, North Yorkshire'
Price: £225.00 + shipping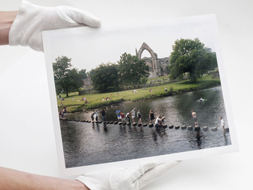 Payment Options
BACS payments are also accepted. Books will be shipped within seven days after receiving payment.
For more details please email studio@simoncroberts.com or download a pdf here.